Dur-Katlimmu Archive 3
a Pleiades
place
resource
Creators: Thomas Seidler, Poppy Tushingham
Copyright © The Contributors. Sharing and remixing permitted under terms of the Creative Commons Attribution 3.0 License (cc-by).
Last modified
May 11, 2023 12:51 PM
— History
In several rooms of the Red House, located in the central part of the lower town of Dur-Katlimmu, an archive of ca. 150 clay tablets inscribed in Assyrian cuneiform and ca. 50 tablets inscribed in Aramaic alphabetic script, along with many more small fragments, was discovered. The texts found at in the Red House date between 828 and 600 BC, after the fall of the Assyrian Empire. Many of the texts can be connected with a man named Šulmu-šarri, a contemporary of king Ashurbanipal (r. 668-ca. 631 BC). The texts pertaining to him were found in multiple rooms of the house (Rooms YV, CW, IW and XW), although texts were also found in other rooms. Several of the people who appear in the tablets found at the Red House bear military titles: a garrison was located at Dur-Katlimmu The four latest texts, Neo-Babylonian tablets dating from 603 to 600 BC, were found in Room XX. The texts include purchase documents, loans and juridicial documents.

https://pleiades.stoa.org/places/863979041
35.6454987752, 40.7438666716

archive repository
The archive is located in the Red House in Dur-Katlimmu.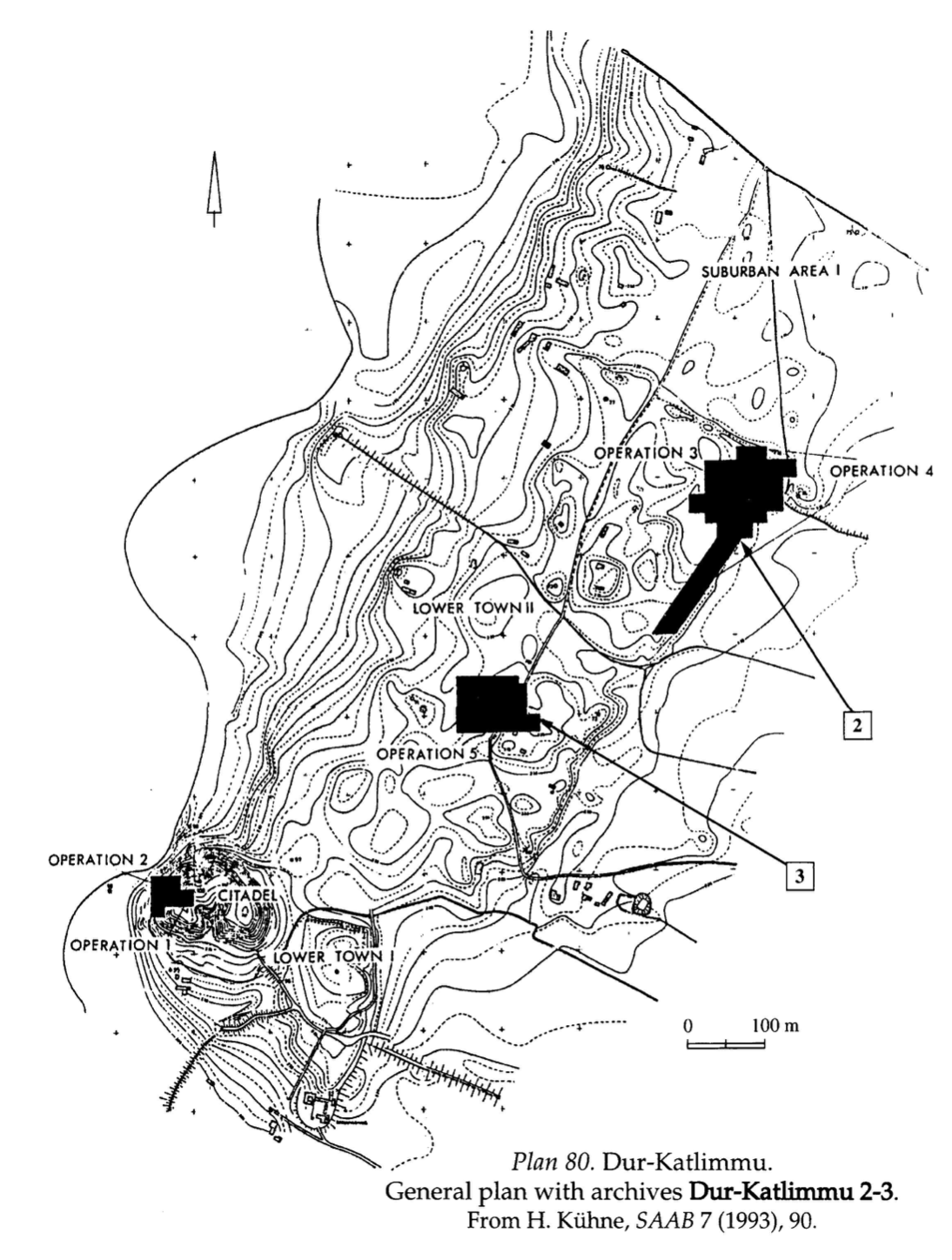 Thomas Seidler

,

and

Poppy Tushingham

, 'Dur-Katlimmu Archive 3: a Pleiades place resource', Pleiades: A Gazetteer of Past Places, 2023 <https://pleiades.stoa.org/places/863979041> [accessed: 06 June 2023]

            {{cite web |url=https://pleiades.stoa.org/places/863979041 |title=Places: 863979041 (Dur-Katlimmu Archive 3) |author=Seidler, T., P. Tushingham |accessdate=June 6, 2023 11:12 pm |publisher=Pleiades}}