Assur Archive 20
a Pleiades
place
resource
Creators: Thomas Seidler
Copyright © The Contributors. Sharing and remixing permitted under terms of the Creative Commons Attribution 3.0 License (cc-by).
Last modified
May 11, 2023 11:53 AM
— History
In a private house in Assur, cut into by the excavation trench 8I, researchers found the remains of a library and an archive, consisting of at least 800 tablets, making it the largest library excavated in Assur. The library, mostly dating to the 7th century BC, belonged to a family of exorcists with ties to the Aššur temple. Under the floors of most of excavated rooms in this house, researchers found brick boxes with apotropaic figurines. The library consisted mainly of incantations and prescriptions, but also prayers, lists of stones and plants for medical use, lexical lists, hemerological texts, as well as texts concerning the ruler's attitudes to the cult and of the destruction and rebuilding of Babylon; additionally, texts such as ration lists form an archive.

https://pleiades.stoa.org/places/306065806
Representative Locations:

archive repository
The library is located in a private house in Assur.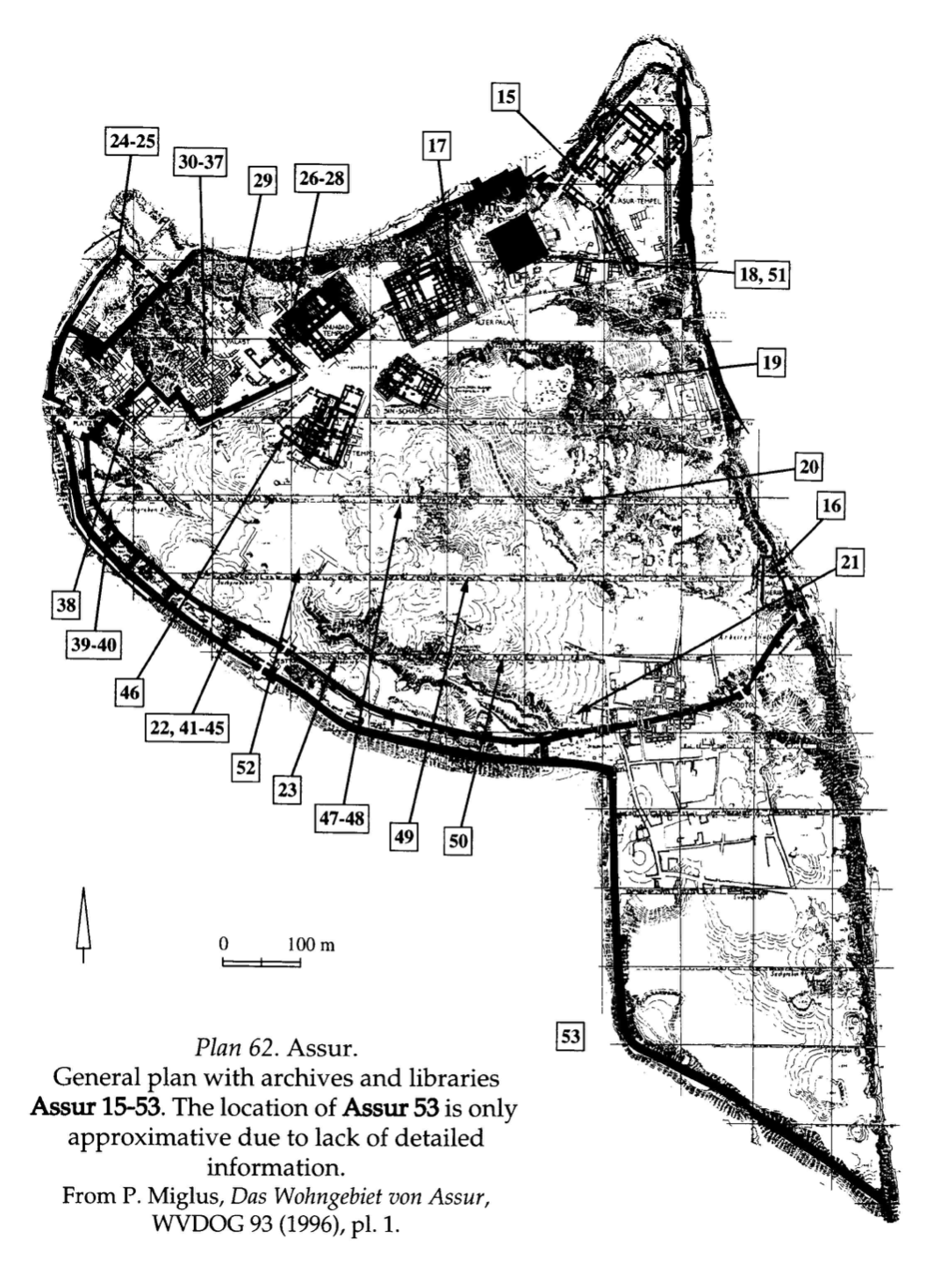 Thomas Seidler

,

and

Poppy Tushingham

, 'Assur Archive 20: a Pleiades place resource', Pleiades: A Gazetteer of Past Places, 2023 <https://pleiades.stoa.org/places/306065806> [accessed: 06 June 2023]

            {{cite web |url=https://pleiades.stoa.org/places/306065806 |title=Places: 306065806 (Assur Archive 20) |author=Seidler, T. |accessdate=June 6, 2023 11:41 pm |publisher=Pleiades}}