Assur Archive 16
a Pleiades
place
resource
Creators: Thomas Seidler, Poppy Tushingham
Copyright © The Contributors. Sharing and remixing permitted under terms of the Creative Commons Attribution 3.0 License (cc-by).
Last modified
May 11, 2023 11:55 AM
— History
In the area of the western outer wall of the prince's palace in Assur, in lA9II, as well as in other parts of the palace, a library and an archive were found. Assur Archive 16 consists of at least 89 clay tablets, a small prism and two cylinder fragments, as well as an Aramaic docket. The texts date from 708 to 658 BC, with one text dating to the time of Adad-nirari I (1305–1274 BC). The texts mostly consist of incantations, including incantations for protection, against sickness or against an enemy. Other texts include prescriptions against sickness, a portion of the poem of the righteous sufferer, a hemerology, a list of eponyms, historical texts, as well as administrative documents such as a list of cow- and sheep-hides, a letter, a field purchase document, a legal settlement, and the Aramaic docket.

https://pleiades.stoa.org/places/459415385
Representative Locations:

archive repository
The library is located in a private house, west of the prince's palace.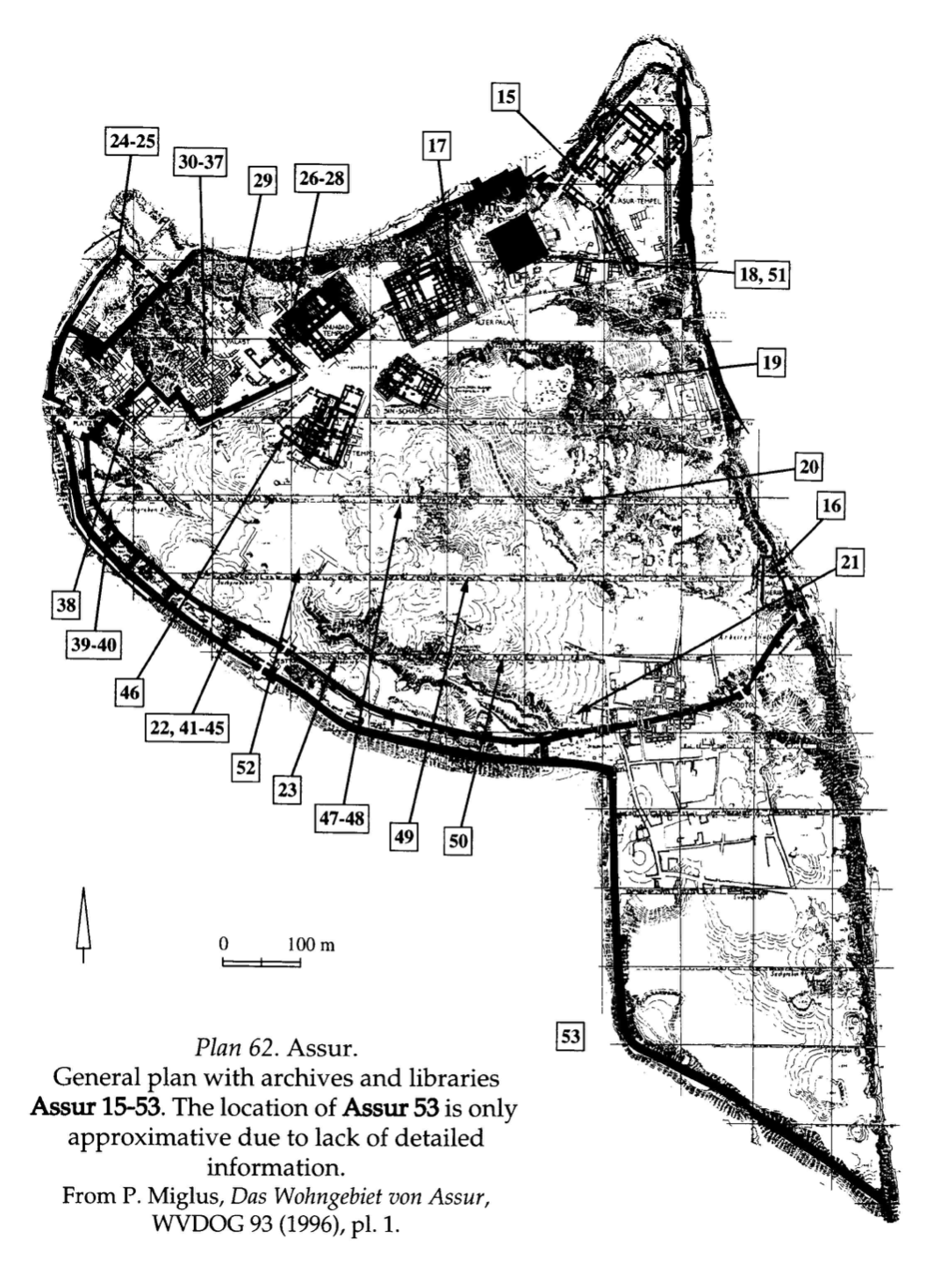 Thomas Seidler

,

and

Poppy Tushingham

, 'Assur Archive 16: a Pleiades place resource', Pleiades: A Gazetteer of Past Places, 2023 <https://pleiades.stoa.org/places/459415385> [accessed: 04 June 2023]

            {{cite web |url=https://pleiades.stoa.org/places/459415385 |title=Places: 459415385 (Assur Archive 16) |author=Seidler, T., P. Tushingham |accessdate=June 4, 2023 7:16 am |publisher=Pleiades}}