Assur Archive 46
a Pleiades
place
resource
Creators: Thomas Seidler
Copyright © The Contributors. Sharing and remixing permitted under terms of the Creative Commons Attribution 3.0 License (cc-by).
Last modified
May 11, 2023 12:40 PM
— History
In a private house, between the southwest to northeast road and the Nabu temple, excavators discovered an archive of 43 clay tablets (eA7II). 44 clay tablets, which according to their content also belong to this archive, were found about 350 meters to the southeast in gE9I. Some additional tablets also belong to this archive. Finds from the house include a scarab and a bronze object decorated with a man in Egyptian style. This, considering the number of Egyptian names attested in the archive, suggest that the archive belongs to a group of partly assimilated Egyptians. Available datings are from the 7th century BC. The archive includes at least 22 loan documents usually concerning silver, purchase documents concerning people and houses, marriage documents and a division of inheritance.

https://pleiades.stoa.org/places/481246817
Representative Locations:

archive repository
The archive is located in a private house.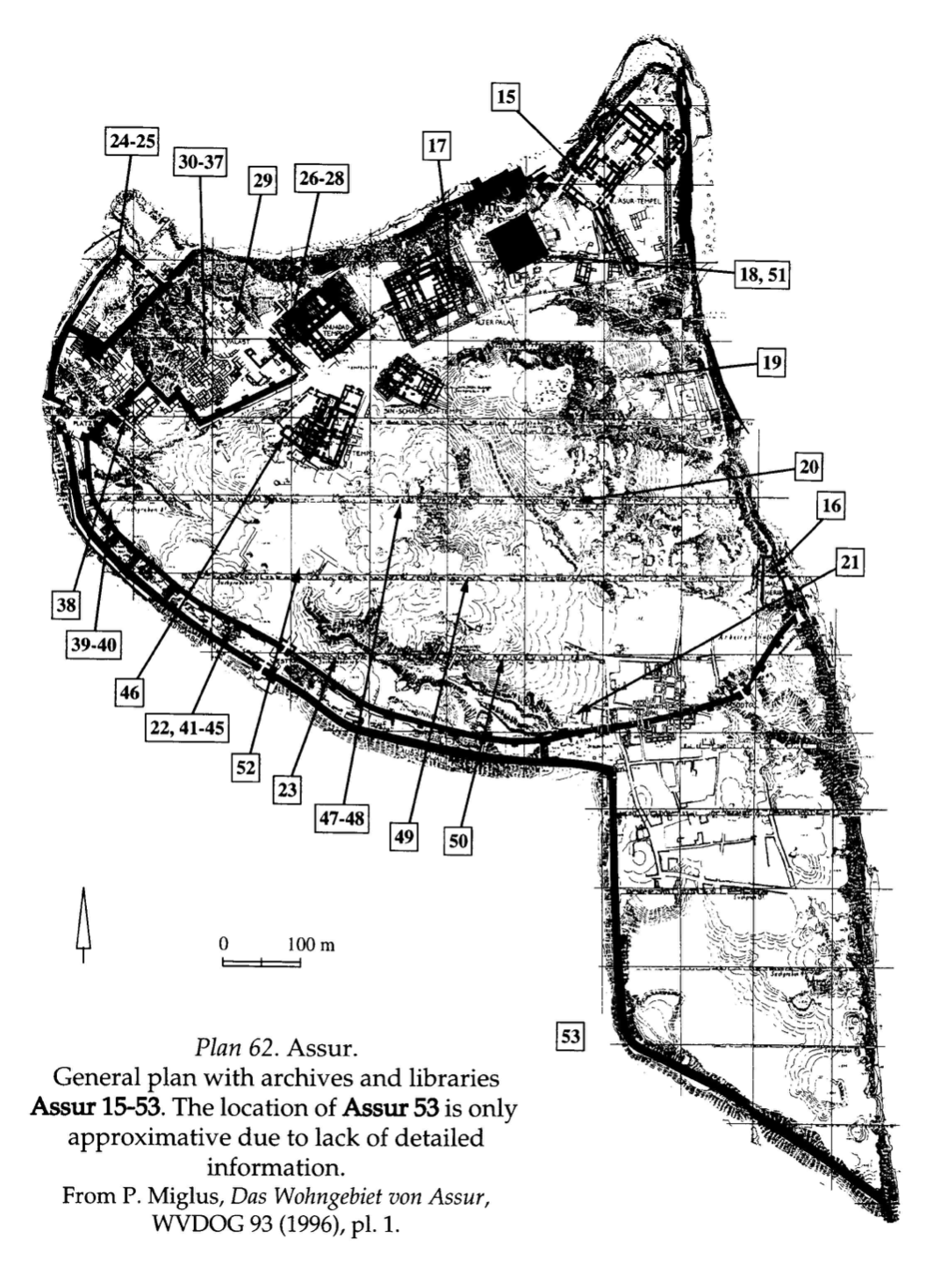 Thomas Seidler

,

and

Poppy Tushingham

, 'Assur Archive 46: a Pleiades place resource', Pleiades: A Gazetteer of Past Places, 2023 <https://pleiades.stoa.org/places/481246817> [accessed: 04 June 2023]

            {{cite web |url=https://pleiades.stoa.org/places/481246817 |title=Places: 481246817 (Assur Archive 46) |author=Seidler, T. |accessdate=June 4, 2023 7:49 am |publisher=Pleiades}}